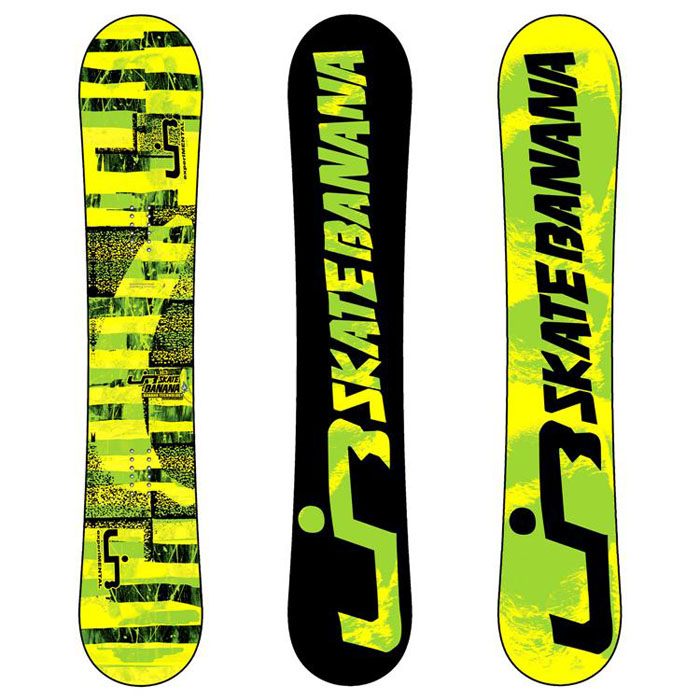 Skate Banana
The Original All Terrain All Conditions Quiver Killing Freestyle Banana/Magne-Traction Series!
Banana Tech reverses a snowboard's "pressure map". With Banana Tech your weight is shifted from your feet inward to the center of your board where balance is controlled. Some weight is still transferred to the tips and tails and full contact is maintained for control and stability but far less than is the case with tip-to-tail ski camber where the tips and tails are the focus of all weight distribution, making a board catchy and difficult to ride. This "Banana Tech" snowboard specific pressure map makes turns easy to initiate, is catch-free and forgiving, floats incredible in powder, and is unreal for jibbing and poppy freestyle fun. Ride a Banana!
Art by Matt French
Banana Technology (BTX)
Mervin's revolutionary original all-terrain freestyle banana blend.
Rocker between your feet blended with flat-to-mild camber to contact points. Focuses pressure between your feet for easy turns, great edge hold on ice, and a mild amount of pressure to the tip and tail for unreal float and catch-free freestyle.
Twin All Terrain Freestyle
Excels: in all conditions.
Epic: fun, jibbing, & pow
Magne-Traction (MTX)
Magne-Traction serrated edges cut into the snow like a knife giving you more edge hold and control than ever before. Magne-Traction features 7 strategically located and sized bumps along each side of your sidecut. The Biggest bumps are at and between your feet where your balance is centered adding maximum control and power where you need it most. The bumps outside your feet are smaller and less aggressive providing tip and tail control but maintaining freestyle freedom. Magne-Traction is wiggles that work. Viva Technology.
MAGNE-TRACTION FREESTYLE ADVANTAGE:
One of the best things about Magne-Traction is that the extra edge hold you get allows you to ride your board de-tuned for the park and rails and still get great edge hold all over the mountain. Take a file and round your edges so they don't hang up on the rails, boxes, or ledges. Then go ride everywhere!